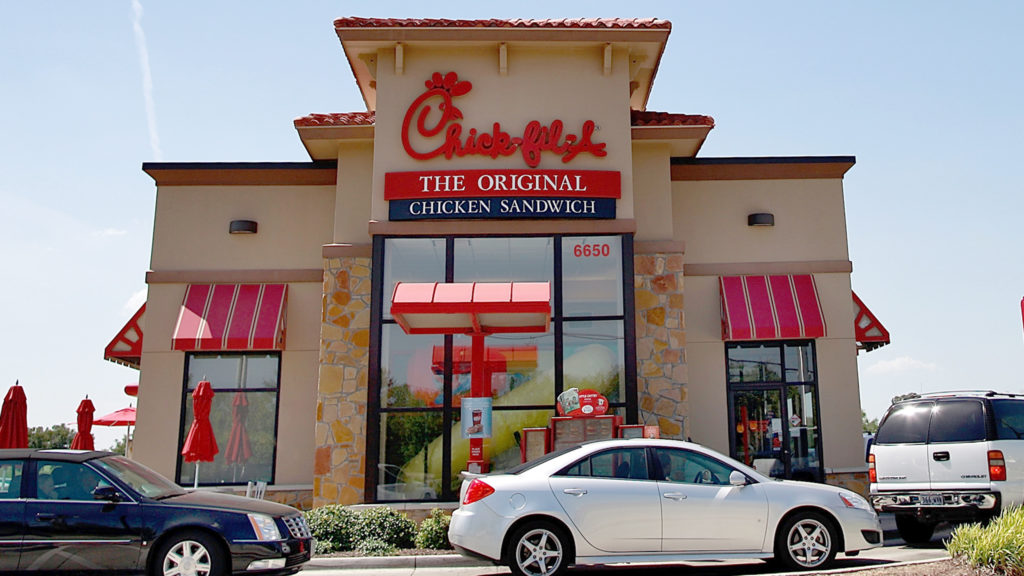 MAYFIELD HEIGHTS, Ohio — City Council Monday approved the final site plan for the new Chick-fil-A restaurant coming soon to the Golden Gate shopping center, but it didn't come without a lot of discussion.
A good deal of that discussion centered, not so much on the restaurant, but on the driveways that lead in and out of the Mayfield Road shopping center.
Council did, without difficulty, unanimously approve variances that had been allowed by the city's Board of Zoning Approval to allow a drive-through at the eatery and an outdoor seating patio on the Mayfield Road side of the business, which is slated to be built at the front and center of the Golden Gate parking lot.
Council also approved by a 7-0 count, a 45-foot variance that allows the building to sit just 70 feet from the Mayfield Road sidewalk. The building will be permitted to be built closer to the main road than usual to allow for as much parking space as possible in the Golden Gate lot.
The two lane drive-through, which will narrow to one lane after orders are placed, will be located between the 5,000-square-foot building and Mayfield Road. Shrubbery will serve to block the view of the waiting cars from those passing on Mayfield Road.
Councilman Robert DeJohn, when time for final site plan approval arrived on the agenda, told project manager Brian Constantine, of CBRA/Skye Group, who is working with property owner Hornig Capital Partners, that he wanted to see the curved entrance/exit lanes that are at the east and west ends of Golden Gate be straightened.
DeJohn was backed by Councilman Donald Manno, who said, "People don't like those curves. They think they're stupid and dangerous and they want something done with it."
Manno said drivers don't always stay within their lane when they get in the curved lane lines.
"I have had near misses there, myself," Manno said. "People don't pay attention to the curves."
Constantine said the property owners installed the curved lanes as a safety measure, but Manno said, "The driveway (lanes) were straight since the shopping center opened and we never had a problem."
Michael Schweickart, of TMS Engineers, who has served as the city's traffic engineer since 2005, told council that he preferred the curved lanes.
"The curves have a calming effect on traffic," Schweickart said. "When lines are straight, people want to get to their destination as soon as possible.
Manno made a motion that the final plan not be approved unless the driveway lanes were made straight. Only DeJohn and Council President Gayle Teresi backed that motion.
In the end, the final plan was approved, with the curved lanes maintained.
At the start of Monday's City Council meeting, Teresi read a letter of resignation from Board of Zoning Appeals Vice Chairman Jerome Rothenberg. Rothenberg stated that he felt his voice was not being heard on the board as he voted against the Chick-fil-A building's proximity to Mayfield Road.
Mayor Anthony DiCicco said Rothenberg's voice was heard and noted, "He was the only dissenting voice on the board of appeals on those discussions."
Board Chairman Fredric Kramer also stated that Rothenberg was fully heard and added, "I will miss Jerry on the board."
It is expected that construction will begin in July, with Chik-fil-A, known best for its chicken sandwiches, opening in November.
Also at Monday night's meeting:
— Council unanimously approved two resolutions that will see the city seek NOACA Congestion Mitigation & Air Quality grants.
One is for a Mayfield Road corridor traffic signal safety and equipment upgrade project.
Speaking of the project, Schweickart said, "It's for upgrading traffic signals and computerization. It would upgrade signals with battery backup, and add pedestrian countdown signals (at crosswalks).
"It would resolve congestion along Mayfield Road by increasing traffic speed and decreasing travel time."
If the city is successful in getting the grant, the federal money administered by NOACA would pay for 80 percent, or about $2.3 million of the $2.85-million project. The city would be responsible for the remaining 20 percent, or $517,000.
The other grant sought would go towards making what Schweickart called a "modern roundabout" at what is now a T-shaped intersection at Lander and Landerbrook roads. Schweickart said a modern roundabout is smaller in scale and more compact than older roundabouts, such as the one found at S.O.M. Center Road and Gates Mills Boulevard.
This project has a total estimated cost of $1.434 million. Of that amount, the federal money would again pay for 80 percent of the project, or about $1.2 million, while the city would pay the remaining $287,000.